Iraqi Elections & Despicable Americans
I know Dick Cheney & other neo-cons expected to see WW II- type celebratory crowds when our troops rolled into Baghdad. Didn't happen, beyond the pulling down of some statues.

Why not? Maybe because these people have lived under one tyranny or another forever, so they didn't have a return to freedom to celebrate. Or, maybe it was because the oppressor we toppled was home-grown, and not an invader. Or, maybe it was because we fought a war against these very people a decade ago, so our troops were still looked upon as the enemy.

Whatever. Did you see the looks on the people as they voted Sunday? Especially the faces of the women? Did you see the people proudly holding up their inked fingers? Even CNN's reporters were gushing about the feeling in the streets of Iraq.

That was the victory parade Cheney expected, but didn't get. That was why over a thousand of our best young men and women have given their lives.

That was the look of freedom.

I walked around all day with a catch in my throat.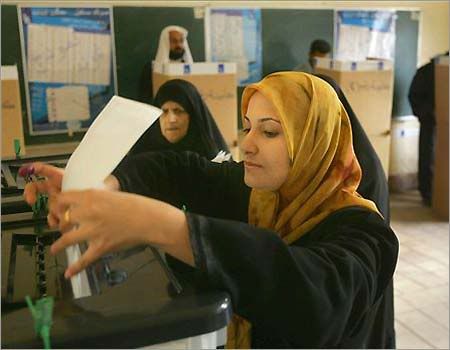 Now, for the despicable Americans.

Paul Vitello, a liberal columnist for the very liberal Newsday here on Long Island, wrote a column about the peace movement, which he refered to as "The Second Superpower". He writes of the "peace activists" as practicing their own kind of patriotism.

Some patriotism.

A direct quote:

"If the election touches off even greater violent conflict, engaging U.S. troops even more," said Leslie Cagan, national coordinator of the Manhattan-based anti-war group known as United for Peace and Justice, "that could be a kind of shot in the arm for us."
Huh?

If I'd heard this on Fox, I'd be tempted to think it was a plant-- after all, don't liberals accuse us conservatives of implying that they are anti-American?

Well, what could be more anti-American? This confirms what we conservatives often suspect: that there are many in the "peace movement" who care more about the movement than the peace, who are more concerned about reliving their youthful anti-Vietnam War days, than they are about the lives of young Americans, or the future security of our country.

Democrats wonder why America is turning from them more and more. This is why.

The professor in Colorado, who stated that the 9/11 victims got what they deserved.

The "peace activists" actively rooting against us.

The hypocrites who wrung their hands when we were attacked, who "acknowledged" in September, 2001 that this would be an awkward, long, frustrating fight against a large group of people, spread throughout the Middle East, who hate us and who have been attacking us for years, but who immediately turned once the going got tough.

Despicable people with no memory, no common sense, and no sense of shame.

They want to know why we are in Iraq? Simple.

We are fighting those who hate us on their streets, not ours.

We are trying to install democracies because that is our best hope at ending this cycle of terror-- people who are free rarely, if ever, attack others without cause.

Will it work? Who knows? But has anything else? If ten years from now we see democracies in Afghanistan, Iraq & Palestine, wouldn't it be expected that there will be fewer terrorists coming from those lands? How about if we end the tyrannies in Syria? Libya? Iran? Saudi Arabia?

Wouldn't the world be safer, for us, for our children, for our grandchildren?

Maybe it won't work. But the great American judge,
Felix Frankfurter
once said something which our soldiers know, which most Americans know, and which the brave Iraqi voters now know:

We have enjoyed so much freedom for so long that we are perhaps in danger of forgetting how much blood it cost to establish the Bill of Rights.
|