Jeanine Pirro: Time's Up
For those of you outside New York, this is a non-story. For New Yorkers it is the latest saga of a woman who, while looking the part, just never seems to have ever been able to pull it together.
She's attractive. In sound bites she sounds intelligent, though I've never been really impressed. She's attractive. She's been the Westchester County DA for years, and is a semi-regular on cable talk shows. Her husband, the ex-con, is a major contributor and highly influential, which certainly opened doors for her. And she's attractive.
So Republicans in my state have regularly trotted her out in attempts to run her for statewide office. And every time something derails her nascent campaign.
Years ago it was the husband's tax fraud conviction. This year, she started to run against Hillary, though that campaign tripped right out of the box when she lost one of the pages to her speech, and stood there like an idiot for minutes, crystallizing the image of her as a put-up all-show no-substance candidate. She looked like a beauty queen trying to do calculus--I was shocked she didn't try to fill the gap by saying the thing she most wanted was world peace.
Now her campaign against the detestable Andrew Cuomo is dead in the wake of revelations that this DA tried to get Bernie Kerik to illegally tape her cheatin' husband.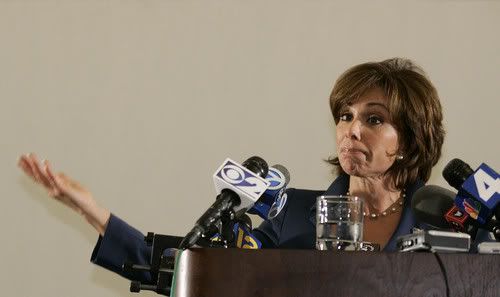 She may be an attractive person, but she is an ugly candidate.
New York State's Republican Party is a disaster. I don't know if Pirro is a cause or a symptom, but it is certainly time for her to exit, stage left.
|