Give Her Another 45
So Paris Hilton is passing around a
petition
asking Gov. Arnold to pardon her because "She provides inspiration, beauty, and excitement to people all over the U.S. and the world." She is outraged that a person of her celebrity is going to spend 45 days in jail for drunk driving, combined with two violations of her thus suspended license.
I recognize Ms. Hilton maybe has a high school degree and absolutely no shame. Still, are there no adults in the picture? No one with any common sense?
News reports
state that several hundred people have signed the petition, which, if you choose to, I suggest you read within reach of an air sickness bag. While I shouldn't be surprised that celebrity attracts lunacy here in the good ol' US of A, two comments do spring to mind at the thought of that many Americans putting their presumably good names on such trash, for such trash:
First, maybe the Apocalypse isn't that far off; and
Second, it really is time for us to either revamp our educational system or our mental health services, or maybe both.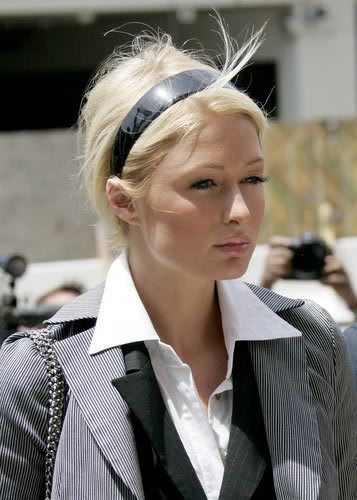 |